概述
Bose noise-masking sleepbuds™ are uniquely designed for sleep. But they don't stream music or have acoustic noise cancellation. Instead, these tiny, wireless earbuds use pre-loaded, soothing sounds to cover up unwanted noises, so you can get to sleep — and stay asleep.


Pre-loaded sounds are specifically engineered to optimize sleepbuds' noise-blocking design. Each sound covers a range of unwanted noises. Find yours.
Sample popular soothing sounds. There are many more sounds available in the Bose Sleep app.


温馨的静电音
与白噪音类似,去除了分散注意力的高频音。
"I love the all-night ambient sound selections so I don't have to reset anything once I go to bed. Pure genius!"
Better together: Eartips and sounds engineered to cover noises that keep you up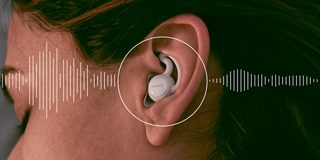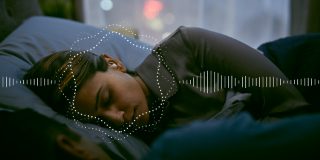 Sleepbuds use noise masking to help you get uninterrupted sleep. They play soothing sounds consistently, at frequencies that neutralize common distracting noises.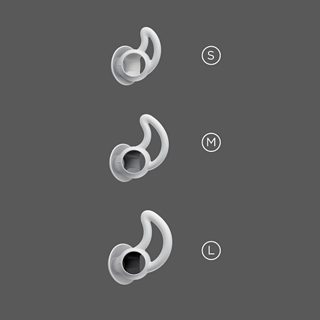 要获得最佳遮噪效果,请从三种尺寸的耳塞中进行选择,这些耳塞的设计可完全贴合耳甲部位。
" 它们完美地适合我的耳朵,即使我侧躺或翻身,它们依然整晚贴合耳朵。 "

Storage case protects and recharges your sleepbuds while not in use. A single charge provides up to 16 hours of use.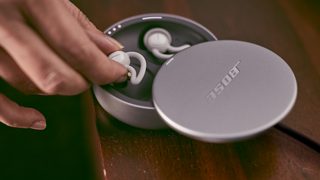 规格
尺寸/重量
睡眠耳塞:

2.38 厘米 x 2.69 厘米 x 1.42 厘米(高 x 宽 x 深)(2.3 克/个)

便携盒:

2.70 厘米 x 7.70 厘米 x 7.70 厘米(高 x 宽 x 深)(111.41 克)
其他详细信息
可充电银锌电池

Charging time: Up to 8 hours for sleepbuds

Battery life: Up to 16 hours per full charge

Charging case: Up to 3 hours charging time
包装盒内部
Bose noise-masking sleepbuds™ 遮噪睡眠耳塞

充电/收纳盒

3 对 StayHear+ Sleep 鲨鱼鳍硅胶耳塞(小/中/大)

壁式充电器

USB 连接线

拉绳旅行收纳袋
常见问题
如何知道我的设备是否兼容?
Your device (smartphone, tablet, etc.) must support Bluetooth Low Energy (also called Bluetooth Smart) to work correctly with the Bose noise-masking sleepbuds. Apple devices with iOS 10 or later are compatible, and most devices with Android 5.0 and newer versions support Bluetooth Low Energy.

Why does the product use noise masking rather than noise cancellation? How does noise masking differ from noise cancellation?
Noise cancellation is most effective in environments with lots of low-frequency sound (airliners, buses, etc.); in Bose Acoustic Noise Cancelling products, it's combined with passive blocking to achieve good reduction of sound at all frequencies. However, no combination of passive and active technologies reducing sound entering your ear can make unwanted sound, particularly at voice frequencies, completely inaudible. And, when a sound is bothering you — like snoring from a partner next to you keeping you awake — you want it to be inaudible. Noise masking can achieve this.
Masking works because of the way different sounds combine in our inner ears; if they have the right match of frequencies and one (the masking sound) is just enough louder than another (the disturbing sound), your inner ear and brain cannot detect the disturbing sound. Cancellation creates quiet in our ear canals; masking — in the right conditions — creates quiet in our minds.
Bose noise-masking sleepbuds combine passive blocking of sleep-disturbing sounds with a choice of sounds engineered to mask what is not blocked by the eartips. The masking and passive blocking work together synergistically, so the masking can be listened to at a quiet level that is soothing and which fades from your attention as you drift off to sleep.

我是否可以使用 Bose noise-masking sleepbuds 遮噪睡眠耳塞听我自己的音乐或音频书籍?
No. Bose noise-masking sleepbuds were engineered specifically to solve the problem of unwanted noise keeping you from falling asleep and staying asleep. In order to achieve a form factor small enough to be comfortable for sleeping and fit batteries that can support sound playback for an entire night, we made the conscious design decision to not stream audio to the sleepbuds. Instead, we store the sound files on each of the sleepbuds and play them back locally, dramatically extending the audio playback time achievable in this tiny form factor.
将新音效加载到我的睡眠耳塞需要多长时间,以及我是否需要删除一个音效以腾出空间?
Depending on the size of the sound and your Bluetooth signal strength, a transfer should take between 30 minutes and two hours. Sound files are stored directly on each sleepbud and, because of the sleepbuds' small form factor, the amount of storage is limited. The requirement to delete a sound (typically after you've reached 8 – 12 sounds) is based on the combined size of all the sounds on your sleepbuds, not on the number of sounds. The Bose Sleep app will tell you when you need to delete a sound before transferring a new one from the Sound Library.
Bose noise-masking sleepbuds use Bluetooth Low Energy (BLE) wireless technology, which is optimized for low battery consumption to achieve all-night battery life. While BLE works well for sending wireless commands (play, pause, etc.), it's not optimized for fast file transfers, as noted by the transfer times above. We recommend that you select a sound from the Sound Library to transfer before you go to bed. That way, the sound will be available for use the following night.

我可以上传自己的音乐吗?
否。Bose 提供所有声音,以便我们能够优化遮噪和/或放松体验。
如果耳塞没有用户控制,我要如何控制它们?
All user control is done within the Bose Sleep app. This includes the selection of soothing sounds, volume control, setting alarms, and managing updates. The sleepbuds will turn on automatically when you remove them from the case.
如果我不想让遮噪音乐整晚播放,该怎么做?
Bose noise-masking sleepbuds default to playing the sounds all night. We recommend this setting so that your sleep is protected from noise disturbances throughout the entire night; there are many noise-induced "micro-awakenings" that can happen over the course of the night that you don't realize, but still negatively impact your sleep quality. However, you can choose to schedule a timer if you don't want soothing sounds to play all night. This timer can be set within the Bose Sleep app, and the sound will fade out when the timer ends.
如果我的手机在夜间没电了,我是否仍能听到闹钟声?
Yes. In the event your phone battery dies and your phone disconnects from the sleepbuds, they will still play your first scheduled alarm automatically. So, as long as you still have battery life in your sleepbuds, you will still hear a wake-up alarm.
我在使用该产品时能否听到烟雾报警、儿童哭声、入侵者等声音吗?
Bose noise-masking sleepbuds are designed to mask unwanted noise and disturbances while you sleep. Because of this, they can affect your ability to hear other sounds, such as alarms, warning systems, people, or pets.
However, to balance the levels of noise masking and awareness you want, you can set an appropriate volume level for your needs within the Bose Sleep app. The volume should be high enough to mask noises that disturb your sleep, but not so high that you can't confidently be awoken by the sounds you want to hear. If you are still concerned about your ability to hear sounds while wearing the sleepbuds, you may want to take alternative measures, such as relying on a partner, wearing only one of the sleepbuds or scheduling the masking sound timer.
我能否只佩戴一只睡眠耳塞?
Yes. You can choose to use just one of the sleepbuds. Simply remove one of the sleepbuds from the case and play a sound.
Bose noise-masking sleepbuds 遮噪睡眠耳塞能否抵御我耳中的汗和/或水?
Yes. The sleepbuds are sweat and water resistant. However, the charging case is not designed to be sweat or water resistant because it's not a wearable product and is designed to reside in a benign environment (e.g., on a bedroom nightstand).

Bose noise-masking sleepbuds 遮噪睡眠耳塞是否有电磁或射频辐射?
Bose noise-masking sleepbuds achieve ultra-low radiation exposure because we do not stream audio or other content throughout the night. Instead, the product plays back audio files that are stored locally. In addition, sleepbuds use a class-III Bluetooth radio, which has the lowest transmit power among all the Bluetooth classes. During an entire night, sleepbuds emit a fraction of what traditional Bluetooth headsets emit during a single phone call.
We are also working on a feature called "Phone-free Mode," which will allow you to disconnect the sleepbuds from your phone, while still accessing limited functionality. Phone-free Mode is coming soon.
Bose noise-masking sleepbuds 遮噪睡眠耳塞是否是医疗产品?
No. Bose noise-masking sleepbuds are a consumer product. As such, they don't require a prescription or the referral of a doctor to purchase them.
银锌电池的好处有哪些?
We recognize that this is a product that you'll be wearing for extended periods of time while you're asleep. So we took extra care in selecting a battery. Silver-zinc batteries use a unique chemistry that self-limits its power output for greater safety. These batteries have been tested by Underwriters Laboratories (UL), and are certified by UL under the UL2054 Battery Standard.
这种体验是如何优于床边的助眠机或耳塞的效果?
Bedside sound machines and earplugs are currently the two most-common approaches to mitigating nighttime noise disturbances. However, neither are quite effective enough at blocking common nighttime noise disturbances, especially when the noise source is a snoring partner right next to your head. In addition, with earplugs, there's an anxiety that you won't wake up to your alarm in the morning. Bose noise-masking sleepbuds™ synergistically combine the underlying principles of sound machines and earplugs to give you dramatically superior noise blocking, while simultaneously giving you the confidence that you'll still be able to wake up to your alarm in the morning.
Bose noise-masking sleepbuds 遮噪睡眠耳塞与普通耳塞相比,有什么不同?
Noise-masking sleepbuds™ were designed from the ground up to do one thing, and that was definitely not to just be another pair of earbuds. We started with the fundamental problem of unwanted noise in the bedroom, and we laser focused our engineering on singularly addressing that problem. This design approach led us to optimize around very different variables than normal earbuds do—most notably in the size of the sleepbuds™ and acoustics.
As the vast majority of people sleep with their ear pressing into a pillow, designing an in-ear device that is comfortable for side-sleepers was of paramount importance — you can see this in how Bose noise-masking sleepbuds™ are dramatically smaller than other wireless earbuds on the market. And our sounds have been carefully engineered to maximize both masking and relaxation, and can be played softly because of the way they've been designed to work with the noise reduction of the sleepbuds themselves.
Bose noise-masking sleepbuds 遮噪睡眠耳塞的保修是什么?
Bose noise-masking sleepbuds are a unique addition to the Bose product lineup. As the first of its kind, we're providing a warranty that's tailored specifically for this product. Bose sleepbuds are covered by the Bose Limited Warranty for a period of 2 years.